Four Quarters Bar is located in Peckham, London…England…Earth. It's a small, but decently sized bar that has a wall of really diverse arcades machines, ranging from Pac-man to Robocop and if the mood strikes you, you can get some of David Hasselhoff's meat in your face.
The pros of this gaming themed bar are that the few times we've been in there, it's not been dead at all, but rather lively with a mix of people. By the time 9pm came on Friday night, the bar was full of people and the drinks were flowing merrily. Many people came to just hang out, some came for birthday drinks with their friend who was the only gamer in the group and others came to check the arcade machines and the arcade tables. Though space might not allow it it would have been nice to have a sitting down arcade driving game nestled somewhere.
One side of the bar is a bit livelier than the other and I would personally suggest that Four Quarters maybe decorate the side opposite of the arcade machines. The tiles there give off a school swimming pool vibe. They have a projector that played the Robocop films, the night we went and for a short time there was some really funky 8bit and retro noir music playing which really suited the vibe and accompanied the Robocop films that were playing on the wall, quite well. Later on the music changed and it would be great to have a larger selection play for much longer.
Now to the important part, no not the games, even though it's a gaming bar, but the gaming cocktails. We jest…the games are important too, of course. But that thirst!
There's a decent list of gaming themed drinks and unlike some places, you can actually tell there's alcohol in them which is nice especially when you're paying hefty prices. I think that some gaming bars need to not assume that the label of a cocktail justifies the pricing of it. Four Quarters offers a deal which is appreciated and it would be nice places like Loading Bar did the same. There's Bison from Street Fighter to Donkey Kong themed drinks and they're quite tasty. If you prefer something else, there's actually a really cool selection of world beers and the lovely tasty Delirium if you like your hit of Belgium beer fruity or otherwise.
That's a nice touch, for those that want more than a Stella or Budweiser. Not that there's anything wrong with that. At some points during our visits, due to the crowds getting a bit bigger, drink service would slow down if cocktails were ordered. But while that seems like a nuisance, it was more a testament to the fact that the bar staff were taking their time to make proper cocktails and not scrimping. Other than that the staff were friendly and cool.
One of the cool novelties of Four Quarters is that the arcade machines take actual quarters. You can get these behind the bar or via a machine next to the bar effortlessly enough. Our of all the gaming themed bars in London this would be the one we'd recommend if you want to actually play more games than you want to drink while surrounded by a few games and memorabilia. It's perfect for doing thing sin rounds. Have a drink and a catch up, then play some Time Crisis or Simpsons, resume a round of drinkage and then try some of the racing games or other two-player shooters. It would be great if Four Quarters could expand their size either up or out the back (we're not aware of the ground plans) and with that offer a beer garden and additional arcade machines.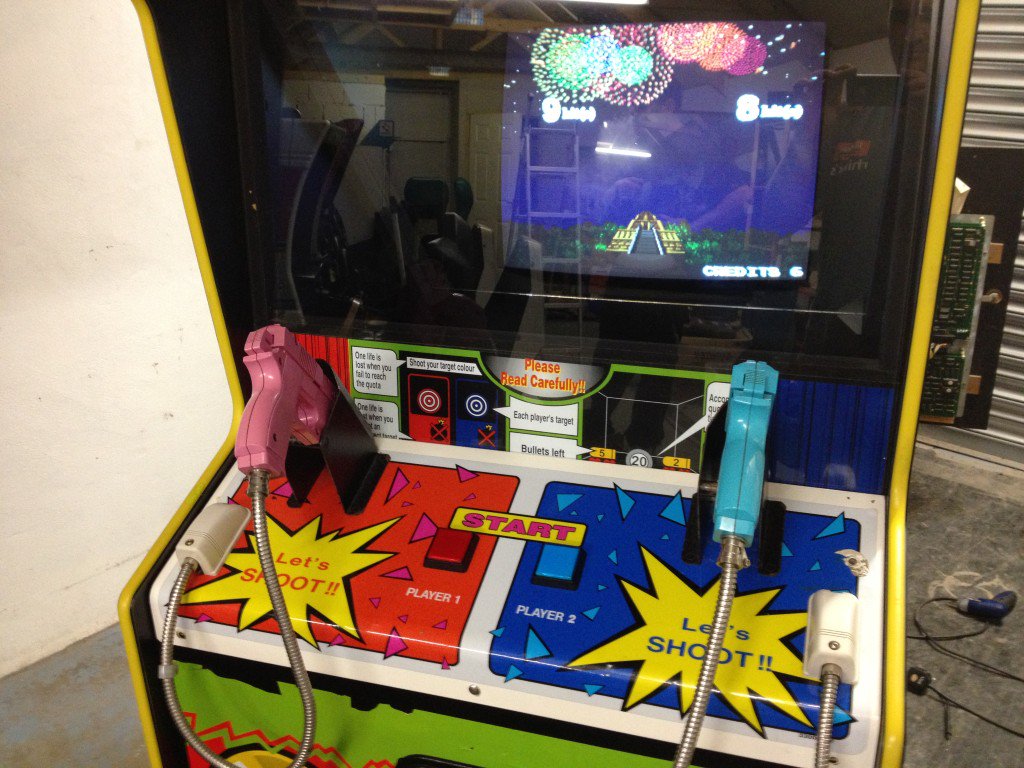 Though Peckham isn't the easiet place to get to, depending on your departing area, if you want a gaming bar that feels like a gaming bar and let's be honest, we need more proper gaming bars in London, then we'd definitely recommend the Four Quarters. Bring some friends, get some drinks, try the food and enjoy some old school gaming to hark back to the days of arcade machines gobbling your money and you not really minding.